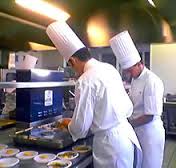 Position on hold – still accepting expressions of interest
Our client is nestled in the heart of New South Wales' Hunter Valley wine country, and is one of the region's best loved venues. Based in a contemporarystyle with luxury surrounds with fine wine and gourmet dining, they seek a highly experienced Sous Chef in fine dining to join their team.
This is an important job in any kitchen, and comes with a lot of independence. To be successful in this role, you must be very knowledgeable about your specialty, as well as culinary functions in general. A person in this role must also be very organized and comfortable working in a high-pressure environment.
Ideally located two hours north of Sydney and 3 hours from Port Macquarie, our client offers an immediate start with great working conditions and remuneration for the successful applicant.
Interested – please apply through the link below outlining your experience and capabilities. Our client will consider 457 Visa sponsorship for successful applicant if required