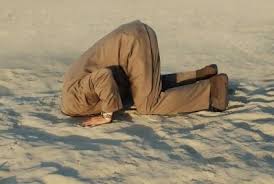 STILL ADAMANT that YOU CAN FIND THE JOB YOU WANT and YOU WANT THE JOB THAT YOU CANT HAVE?
Burying your head in the sand is not an option!
Traditional style jobs are becoming almost redundant, yet, still many people seek the same type of jobs, search for the same types of vacancies and have great expectations of permanency, a job for life.  From our experience, new roles and new ways of working are being created each and every day.  Many employers are launching into new ways of doing business, from on-line solutions to working with Cloud technology, to having a multi-skilled work force.  The world is moving fast, and employers are downsizing on staff rather than increasing.
So what can you do in this challenging new world? Here are SIX basic tips.
Keep abreast of new technology
Even if it means getting your children or grand children to teach you! Ask them questions, keep your currency with anything new in the IT space.  Get interested! if you don't know, enrol in a basic course and learn. Almost all job roles require some form of IT knowledge – get with this century and get curious!
Think inside the square
What do you do when you don't know what to do? Fight or flight? How do you fight on? What resources to you have available to you that you have not previously considered? Think about your networks; your connections either on-line or personal contacts. Who and where can you advertise your skills? If you choose to "flight" and run away from the problem, does this mean moving to another location where the jobs you seek are in more supply? Burying your head in the sand is not an option.
Perform a personal Skills Audit
What are your current assets? How do they match up with current demand within workplaces? Are your skills current? relevant? transferable? What can you do really well? What work do you enjoy the most? Are you being realistic? Conduct a Free Career survey – Google this – you may be surprised with the results. Visit a Career counsellor; talk with Employers about what they are looking for, and also how they recruit.
Sell yourself – make each application individual
Dont send a "sausage factory" style resume that looks exactly like others! Make yours personal.  Add a brief description of yourself, along with why you want this job! What makes you unique? Make sure you explain any gaps or career leaps in your resume – remember the reader can not read your mind! Tackle possible objections to you as a potential worker, just like a salesperson… address this up-front… for example, if you think that they may think you are over-qualified, make sure you nail this issue with a statement that says, " I'm mature, fit and stable person with another 15 years of hard work on offer. Even though my experience has meant managerial work, I'm keen to remain useful and within the workforce, you will find me a low maintenance worker who will follow instructions and be able to produce great work… bla bla bla ….
Review and edit your resume for each job!
Dont make the usual error of applying for a job and your application states you are applying for entirely different job role and employer! Read and edit ruthlessly! Employers want to know that you care about their job and that you know something about them…
There are many ways to skin a Rabbit! or fishing for that Moby Dick…
Finding work is like fishing. Use different bait – use different locations – use different methods….. so how can you search for work like a great fisherman? By
Scanning the environment -researching the job market – where are the jobs?

Obtaining a list of all Targets – potential employers; agencies and networks that may help your search

Choose the right bait – Your resume should be tailored for each TARGET …. tailor and modify for each fishing expedition

Dont apply for every or any job! choose your targets – choose the jobs you can do and want to do!
My last words… It takes skill and some luck to land that Moby Dick…… never give up!
Ivana Agapiou
General Manager
Eather Recruitment and Labour Hire