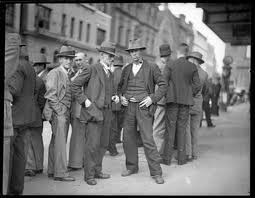 Wasn't that long ago….that we all had a job for life!
New jobs and career paths are created every day. If you are a baby boomer or a child of the 70's, I bet that many of you are not aware that the following jobs exist, let alone what they actually do! How about these apples…..
A Mash up Artist – someone who composes unique music from hundreds of tracks from diverse artists
Or  Social media strategists;  innovation strategists, creative technologists and video drifters to name a few.  Surprised? Here are a few more!
Mobile Marketing Jedi – a growing area for business advertising where a career can be forged helping people develop marketing strategies for this device
Gesture Writer – touch-screen and motion-controlled devices are the norm, not a novelty. Getting things done with a keyboard and mouse will feel archaic and weird. User experience will depend on the insights of experts in gestural movements, who will combine the disciplines of kinesthesiology, cognitive science and interaction design to develop Minority Report-style interfaces.
Data Storyteller –  Just having access to mega data will no longer be a competitive advantage. The challenge will be in determining what to do with it all. Successful organizations will invest in staff who not only analyse the data but also present it in forms that attention-starved executives and time poor clients can act upon.
Content Archivist – Competitive and legal pressure will require more demands for storing, indexing and retrieving the vast amount of content that brands produce. A content archivist will be the person everyone turns to when the Manager asks, "What was that post we sent about that thing five years ago?"
Details Despot – The explosion and fragmentation of consumer touch points are already difficult to manage and will only get more complicated. Marketers who strive to surprise and delight their customers will hire executives to ensure that every gift card, error notice and photo caption is on-brand.
PHEW … and that is just the tip of the ice berg….. excited or scared.. and you dont need Google Glasses to see that it's here! ………………